The challenge we faced in this installation was to look for a saving in the application of chemical products, seeking to apply what the olive tree really needs directly to the root and not to lose product, as well as to eliminate the pipe hindrance at the time of mowing in the field.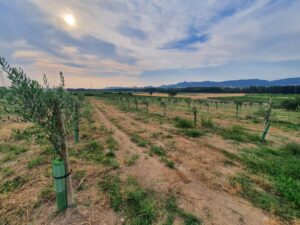 The proposed solution, seeing the problems and the challenge that the client had, was very clear, and it was to install a subway drip irrigation system.
One of the main benefits was the reduction in maintenance costs. The farm needed to be mowed frequently, so not having the pipes above ground avoids damage due to breakage.
Additionally, water savings, even though it is an area where water is cheap and they get what they need, and savings in fertilizers, since the farm is organic.