Some strawberry growers were looking for a new solution to grow hydroponically in high altitude, with all the benefits that this entails, without having to make the time and cost investment involved in the design and construction of high-tech greenhouses.

Faced with this situation, the innovation team at J. Huete International, a member of AgritechMurcia, set to work and created the Berryfesta model, an installation of gothic macro-tunnels with a reinforced structure inspired by the greenhouses that the company has been installing around the world for almost thirty years. Beneath this reinforced iron skeleton are metal channel hydroponics troughs that can be placed either elevated on poles or suspended from the ceiling, and can even be fitted with a system whereby they can be swung horizontally to create working aisles, thus increasing the number of lines and, therefore, production.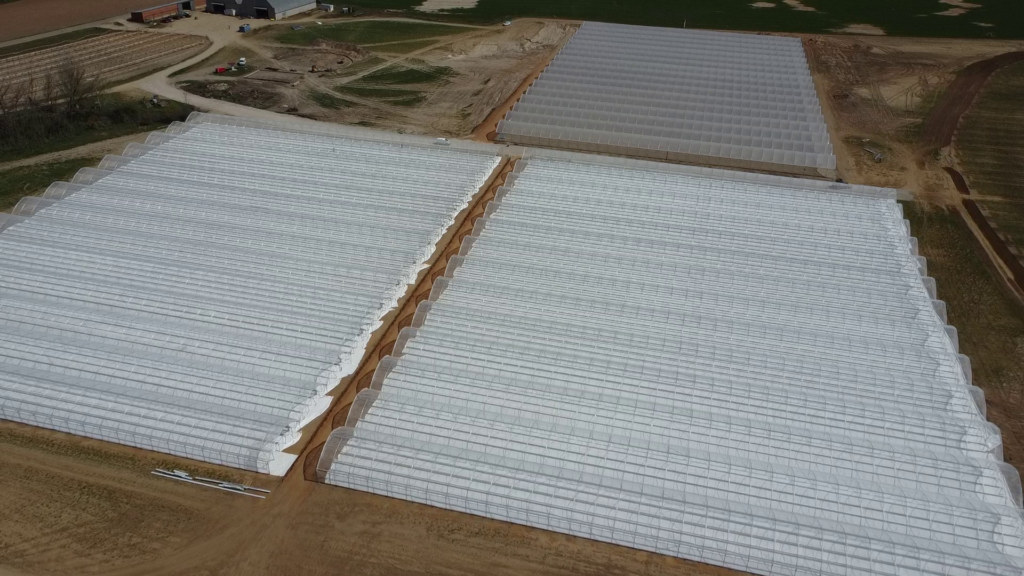 These cultivation systems increase production levels as a result of all their features and benefits, as recently proven by farmers in Mexico and Japan who have experienced increases in their final quantities each cycle.
J. Huete International installed the Berryfesta model for a major Spanish strawberry producer in the northern half of the Iberian Peninsula. There, he set up three production zones to cover an area of 4.5 hectares. One of these areas houses the more usual Berryfesta with plastic covering, while the other two incorporate netting to protect the plants from the strong winds that occur in the area, thus guaranteeing an environment conducive to strawberry growth.
It should be noted that the Berryfesta model, apart from being efficient and adjustable to any investment capacity, also entails a quick and agile installation. J. Huete International installed this project in just over a month, thus adjusting to the strict production cycles of this important client.